Living a Dream of Love and Laughter
Living a Life of Happily Ever After…
~Michelle Istanish
I have had many Full Moon adventures; riding my horse through the forest, enchanting walks, visiting cemeteries and other various activities.  No matter what I do to celebrate the Full Moon, at some point there is always music.  Since discovering Peter Gundry, my Full Moon celebrations have been filled with his enchanting compositions.  The following is my current Magical Full Moon Music playlist.
Amunet, his latest creation, has become my current music obsession…
This heady Celtic arrangement will always be a Full Moon favorite…
Invocation | The Witch's Breath is another must have…
The Full Moon ~ My True and Faithful Friend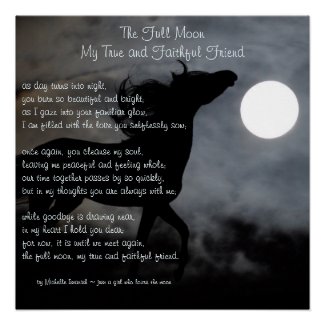 The Full Moon, My True and Faithful Friend
as day turns into night,
you burn so beautiful and bright;
as I gaze into your familiar glow,
I am filled with the love you selflessly sow;
once again, you cleanse my soul,
leaving me peaceful and feeling whole;
our time together passes by so quickly,
but in my thoughts you are always with me;
while goodbye is drawing near,
in my heart I hold you dear;
for now, it is until we meet again,
the full moon, my true and faithful friend.
by Michelle Istanish ~ just a girl who loves the moon